Archives by date
You are browsing the site archives by date.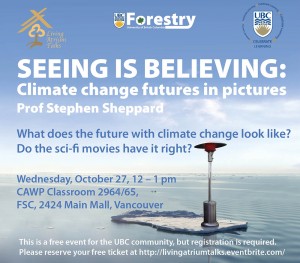 Name:  Seeing is Believing:  Climate Change Futures in Pictures Time & Date:  Wednesday, October 17th, 12:00-1:00pm Location:  Forest Sciences Centre, 2424 Main Mall, CAWP Classroom 2964/65 Speaker:  Professor Stephen Sheppard, Forest Resources Management Department Description: What does the future with Climate Change look like?  Do the sci-fi movies have it right?  Join us for a […]
Posted in Uncategorized | Tagged with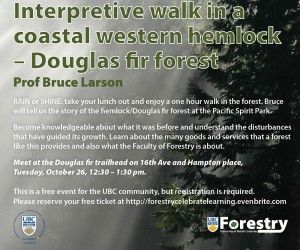 Name:  Interpretive walk in a coastal western hemlock / Douglas fir forest Time & Date:  Tuesday, October 26th, 12:30-1:30pm Location:  Pacific Spirit Park – meet on 16th Avenue & Hampton Place (see Map) Description:  Rain or shine, take your lunch out and enjoy one hour's walk in the forest on a Tuesday.  Professor Bruce Larson […]
Posted in Uncategorized | Tagged with
Name:The Open Learning Initiative: Accelerated Learning Through Adaptive, Data-Driven Instructional Design Time & Date: Monday, October 25, 2010 2:00PM – 4:00PM Location: Irving K. Barber Learning Centre, Lillooet Room (3rd Floor), 1961 East Mall Description: The Open Learning Initiative at Carnegie Mellon University focuses on providing freely available, standalone course offerings in a range of […]
Posted in 2010 Events | Tagged with
Name of Event:   Go Global ISL Student Presentation: Community-Level HIV/AIDS Program Support Time & Date:   Monday, October 25, 2010, 6:00PM – 7:00PM Location:  Buchanan A203, 1866 Main Mall Speakers/Performers: A group of students who participated in Go Global International Service Learning during the summer of 2010. The event will be hosted by Go Global staff. Description: […]
Posted in 2010 Events | Tagged with
Name:  E-Texts, E-Books:  Are We at a Tipping Point? Time & Date: Thursday, October 28, 2010 4:30PM – 6:00PM Location: Irving K. Barber Learning Centre, Lillooet Room (3rd Floor), 1961 East Mall Speakers:  Dr. Teresa Dobson, Associate Professor and Director of the Digital Literacy Centre, Dept. of Language and Literacy Education, UBC Jeff Miller, Senior […]
Posted in 2010 Events | Tagged with
Curious about how to get started with cIRcle? Meghan Radomske, Master of Library and Information Studies Candidate and cIRcle Student Librarian, will discuss UBC's digital repository, cIRcle, and the benefits it offers students in particular. cIRcle welcomes high quality scholarly contributions from both graduate and undergraduate students—enabling them to showcase their work and establish their academic online identities. If you are a student interested in submitting non-thesis work to cIRcle, join us on Friday, October 29th to discuss the opportunities cIRcle provides you!
Posted in 2010 Events | Tagged with
UBC Library licenses over 800 electronic databases for you to use in research and teaching. Many of these databases provide full-text access to journal literature across disciplines. Increasingly, these resources also provide access to streaming audio and video files, which can be incorporated into classroom and online learning environments. Examples include:
* ARTstor, a digital library of over 500,000 art images in the areas of art, architecture, the humanities and social sciences designed to enhance teaching, learning, and scholarship.
* Ethnographic Video Online, the largest, most comprehensive resource for the study of human culture and behavior, which covers every region of the world and features the work of many of the most influential documentary filmmakers of the 20th century, including interviews, previously unreleased raw footage, field notes, study guides, and more.
* JOVE (Journal of Visualized Experiments), a peer-reviewed journal for biological research in a video format which has more than 500 videos demonstrating laboratory methods in the fields of cellular biology, developmental biology, microbiology, immunology, plant biology, medicine, and neuroscience.
* Naxos Music Library, the world's largest online classical music library. Currently, it offers streaming access to more than 36,000 CDs with more than 500,000 tracks.
* Smithsonian Global Sound for Libraries, a virtual encyclopedia of the world's musical and aural traditions. The collection provides educators, students, and interested listeners with an unprecedented variety of online resources that support the creation, continuity, and preservation of diverse musical forms.
* Theatre in Video, contains more than 250 definitive performances of the world's leading plays, together with more than 100 film documentaries, online in streaming video – more than 500 hours in all. This first release contains over 50 titles, representing hundreds of leading playwrights, actors and directors.
Come to this session for a demonstration of these resources and to discuss options for using in a teaching and learning context.
Posted in 2010 Events | Tagged with
Are you wondering what GIS is? Come to this session to find out about the basic concepts of Geographic Information Systems (GIS) and see some examples of its use. This session will also cover GIS-related resources provided by the UBC Library, including the new GIS/Research Data Lab.
Posted in 2010 Events | Tagged with
Managing references, articles and bibliographies is a critical part of virtually every academic or scholarly research project. However, selecting the best online tool for the job can be a major challenge for grad students and faculty. This hands-on, interactive workshop will provide an overview to three of the more popular reference management tools in academia — Mendeley, RefWorks and Zotero — and will highlight the pros and cons of each. Which tool(s) are used most often in science? In the humanities and social sciences? When full-text downloading with PDFs, which tool performs the best? Finally, which of these tools is open-source and free and which requires affiliation to an academic institution?
The first 2 hours of this session will include a presentation, discussion and demonstration of the products using hands-on examples. The final hour will provide participants with hands-on time to try out all three products with support from the instructors.
Register online at http://elred.library.ubc.ca/libs/dashboard/view/1130 to attend.
Posted in 2010 Events | Tagged with
Dr. Wendy Duncan will share her views on how interprofessional education can serve as a strategy to prepare pharmacists to assume the responsibility for optimizing patients' medication therapy outcomes.
Posted in 2010 Events | Tagged with