Archives by date
You are browsing the site archives by date.
This TA Training poster display will showcase the different processes departments and faculties use to train their teaching assistants. It is intended to provide information to students who may be interested in becoming TAs, and it is also an opportunity for faculties to share information with each other about their approaches to TA Training.
Posted in 2013 Events | Tagged with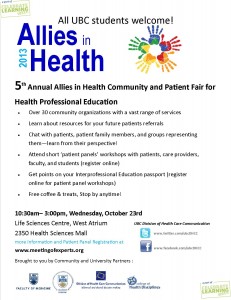 Allies in Health is an open-house fair that connects community organizations, patient support groups and people involved in these agencies with UBC students and faculty. The fair is an opportunity for students and faculty to learn about:
• The experiences of living with illness or disability from patients / clients / community members, and their interactions with health professionals and the health care system
• Resources and information available in the community for health professionals and their patients / clients
• Patient and community organizations and what they do
Posted in 2013 Events | Tagged with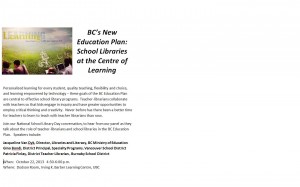 Personalized learning for every student, quality teaching, flexibility and choice, and learning empowered by technology – these goals of the BC Education Plan are central to effective school library programs. Teacher-librarians collaborate with teachers so that kids engage in inquiry and have greater opportunities to employ critical thinking and creativity. Never before has there been a better time for teachers to learn to teach with teacher librarians than now.
Join our National School Library Day conversation, to hear from our panel as they talk about the role of teacher-librarians and school libraries in the BC Education Plan.
Posted in 2013 Events | Tagged with
A 2-day interactive project management workshop offered by the Graduate Pathways to Success Program in collaboration with the Mitacs Step Program.
Posted in 2013 Events | Tagged with
Lost momentum? Having difficulty managing your research in an efficient way? Need motivation and strategies to complete your thesis? This workshop will offer information to graduate students on how to efficiently structure the thesis or dissertation process for timely completion, manage the emotional roller coaster, and find support when their motivation ebbs.
Posted in 2013 Events | Tagged with